Il premier del New South Wales Barry O'Farrell ha dato oggi le dimissioni dopo la scoperta di un biglietto di ringraziamento, da lui firmato, per una bottiglia di vino del valore di 3.000$.
La bottiglia – un Penfolds Grange del 1959 – sarebbe stata regalata al Premier dall'ex CEO dell'Australian Water Holdings (AWH), Nick Di Girolamo. La AWH è attualmente investigata per (presunta) corruzione al fine di ottenere un contratto per la fornitura di acqua a infrastrutture pubbliche nella zona a nord-ovest di Sydney. Le autorità ritengono che i personaggi chiave legati alla faccenda abbiano fatto milioni di $ dall'accordo.
Di Girolamo ha affermato di aver mandato la bottiglia di vino al Premier dopo la vittoria alle elezioni del marzo 2011. Il Premier ha risposto di non ricordarsi di aver ricevuto la bottiglia, ma accetta la presenza del biglietto di ringraziamento firmato da lui.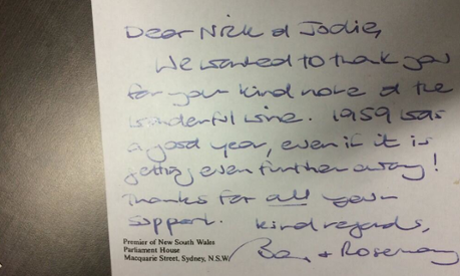 Ecco le sue parole: "I still can't recall the receipt of the gift of the bottle of 59 Grange. I can't explain what happened to that bottle of wine, but I do accept that if there is a thank you note signed by me, and as someone who believes in accountability … I accept the consequences of my actions."
Le dimissioni hanno avuto il sostegno del primo ministro Tony Abbott, che lo ha definito "un atto di integrità, un atto di onore come si è visto raramente nella politica australiana".
Agli occhi di un'italiana, abituata a Scandali con la S maiuscola, scandali che – nonostante ripetutamente provati – non scalfiscono minimamente il potere di chi è e rimane in politica, questa faccenda ha dell'incredibile. Va davvero a confermare il senso della morale, dell'integrità e dell'onore che ho riscontrato in molti australiani. Non saranno perfetti, anzi, ma di sicuro su questo i nostri politici italiani avrebbero tanto da imparare dagli australiani!